At the beginning of July, the first pilot implementation of the online training platform of the ACTIMENTIA project in Bulgaria was carried out.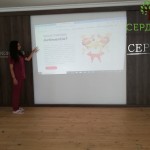 The online platform is designed to support the daily work of caregivers of people with cognitive impairments and slow the development of the disease. This is the most important task that the participating organizations in the ACTIMENTIA project must accomplish. Numerous physical exercises and games selected for the specialized audience are uploaded on the online platform, aiming to maintain good condition, slow down the course of the diseases and improve the mood of both the patients and the people who take care of them.
The first pilot implementation of the online platform, testing of individual exercises and receiving feedback on their effectiveness were carried out thanks to the cooperation and responsiveness to the project tasks of our local partner organization Residence for old people "Serdika" in Bankya. Thank you for the cooperation of the rehabilitators and the residents who participated in the pilot testing!