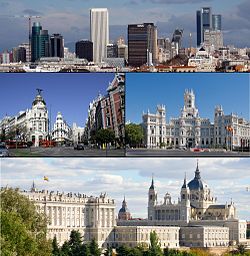 The two years project Diverisities @ Work is near its end and the last meeting of the consortium was held in October in Madrid. The two meeting days were a time in which the project partners reported the results of work done last months – meetings with representatives of business, organizations form sectors education and health, which were shown and presented the training materials developed within the project. The last corrections of the handbook, the fife theme guides on LGBT+ belonging to it and the functionality of the e-learning platform Diverisities@Work http://www.d-work.eu/ were discussed by the participants in the event.
On the second meeting day was held an open discussion on respect for diversity in the workplace and preventing discrimination differences. The discussion was attended by guests from Madrid municipality department "Social affairs" , representatives of NGOs and research institutes. Main topics were: how to inform managers, experts in human resources development about overcoming of discrimination problems in the company staff, how to deal with difficult situations in the workplace arising from differences in sexual orientation of some team members, benefits for work efficiency in tolerant relationships.
The project will end at the end of 2016 with a conference which will be organized in Naples by the coordinating organization Is.Con. – Istituti Consorziati di Studi, Ricerca e Formazione.