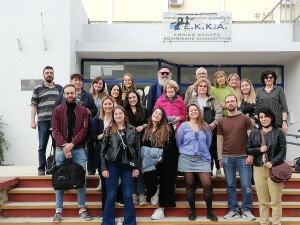 This year, we managed to have our second meeting in Athens. The project coordinator, CHALLEDU (Greece) and the partners, READING TO THE OTHERS (Greece), ESENIORS (France), FRODIZO (Greece), MUENSTER UNIVERSITY (Germany), and
ASSOCIATION GENERATIONS (Bulgaria), met for the second Learning Teaching Training Activity of the project in order to exchange good practices and define our next steps.
CHALLEDU team presented the good practices they have developed and the games they have co-created to encourage and empower seniors with dementia. They informed us about the Bridge project which aims to create board and digital games for dementia patients and escape rooms. After the presentation, all partners participated in a workshop-game simulation, thus giving us the opportunity to discover new ways of learning and working with the Third Age people.
Reading to the others team presented their good practices for senior citizens. In particular, they made a presentation of the therapeutic readings carried out in Elderly Care Units, the Intergenerational Readings aimed at building a bridge between children and the elderly and finally the private readings of literary passages taking place at homes of the elderly people. After the presentation, the partners were given the opportunity to experience the recording experience in the studio of Reading to the others.
The team of FRODIZO took over and talked to us about the services it has developed for the elderly and specifically about the programs it has developed as a method of preventing and dealing with dementia. The meeting ended with the arrangement of our next steps and we set a new meeting in Bulgaria for July 2022.