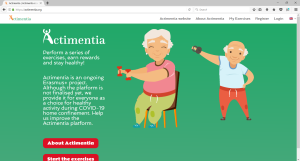 After 3 years of hard work, the activities under the Actimentia project, funded by the EC ERASMUS + program, have been completed. The consortium was composed of representatives of various training organizations from 5 European countries plus Israel – universities, organizations for adult education, vocational training, delivery of social services.
Despite the unforeseen difficulties imposed by the coronavirus pandemic situation and all the constraints caused by it, the consortium was able to cope successfully and creatively with the tasks set out in the project.
Much of the work had to be done online instead of in person, such as project meetings and visits to various institutions, pilot trainings and seminars, as well as a large conference with international participation and local dissemination events.
The most significant result of the consortium's work is the development of an interactive online platform offering a wide range of exercises, lessons, dances, movement games. It can be used to enrich the knowledge of formal and informal caregivers and to support people with mild cognitive impairment and dementia. The platform can be used as an alternative to the daily routine to improve mood and motivate patients. It is open for free use by professionals and anyone interested in its content.