Thanks to the good cooperation with colleagues from the Bulgarian Nursing Association, Association Generations organized on October 20, 2017, the first pilot training (seminar) of the project WHOLE – Wellbeing and Healthy Choices for Older Adults and their Carers, № 2015-1-DE02-KA204-002418, funded by the European Commission, program ERASMUS+. The seminar was attended by more than 30 caregivers from the Military Hospital in Sofia.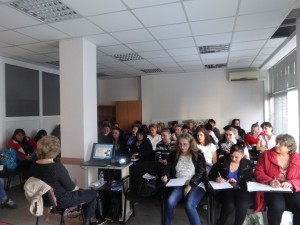 During the seminar were presented the online platform developed within the project, where information on the benefits of healthy eating and physical activity can be found, the developed Healthy Nutrition Module, containing useful tips in this area, and information materials tailored to the most common illnesses by elderly people, also the Physical Activity Module containing more than 280 exercises specifically selected for the target groups of the project. Both modules were developed by professionals in the mentioned areas : University of Münster, Germany, Faculty of Sports Sciences – Project Coordinator, Wingate Institute, Physical Education and Sport Science College, Nethany, Israel and ProActivate Limited, Galway, Ireland.
The participants learned how to use the modules, how to adapt them depending on the specific needs of the elderly and how to make their own training program, how to measure the progress after applying it.
The materials offered on the online platform of the WHOLE project are free, easy usable, easily accessible, providing a comprehensive package of home physical activity and healthy eating for carers and recipients. The WHOLE program
Is fun
Improves overall health and wellbeing
Promotes a healthy and active lifestyle
Improves the relationship between care recipients and carers by providing the opportunity for positive social activity
Supports the autonomy of care recipients through functional improvements and increased self-esteem
The participants in the seminar will help in testing the online platform and build their own program for physical activity and healthy eating. On behalf of the Association "Generations" all participants were granted with certificates of participation.
For more information:
http://www.uni-muenster.de/ProjectWhole/bg/